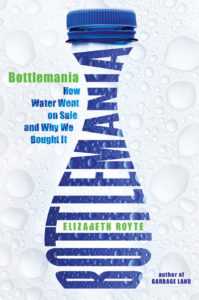 ENTERTAINMENT WEEKLY: Bottlemania is one of 10 "Must Read" non-fiction books of 2008!
SEED names Bottlemania an "Outstanding Books of 2008!"
PLENTY magazine says Bottlemania is a "Top 10 Green Book of 2008!"
Time Out Chicago called Bottlemania a Top 10 Book of 2008!
NY Times Sunday Book Review: "The facile answer is marketing, marketing and more marketing, but Elizabeth Royte goes much deeper into the drink, streaming trends cultural, economic, political and hydrological into an engaging investigation of an unexpectedly murky substance." –Lisa Margonelli (read the whole review here)
"Fascinating… look at the water wars: between bottled water and tap water, between big corporations and local water interests, between consumers who say they want the convenience, cleanliness and even status of bottled water, and environmentalists who condemn bottled water as "the moral equivalent of driving a Hummer," producing tons of plastic bottles, racking up huge transportation fees and leaving behind a significant carbon footprint." –Michiko Kakutani, New York Times(read the whole review here)
"Ingenious. Amiably, without haranguing or hyperventilating, this veteran environmental writer has produced what could be, assuming enough people read it, one of the year's most influential books." –Boston Globe
"[A] timely, densely reported but also very readable and distressing examination of the way we drink." –Abe Streep, San Francisco Chronicle (read the whole review here)
"A balanced, nuanced, entertaining and vastly informative look at the crisis of water — bottled and tap — in the USA. [P]enetrating … a compelling critique." –Cody Doctorow, BoingBoing.net (read the whole review here)
"Thoroughly researched, fluid storytelling by a veteran investigative journalist. Bottlemania is a watery Fast Food Nation, a treatise on H2O that PR flacks would rather keep underground." –D. Grant Black, Toronto Star (read the whole review here)
"This tautly paced volume more closely resembles a travel narrative than a tree-hugging jeremiad." –Mark Coleman, Los Angeles Times (read the whole review here)
"Investigative writer Elizabeth Royte covers it all: the nonsense about mineral water's "health benefits"; the struggles of the communities from where this stuff is pumped in its billions of gallons; the huge environmental damage; the debunked science behind the eight glasses a day recommendation; the incredibly rare health scares related to municipal water supplies that are hyped by persons unknown (who could they be?) and drive people to purchase yet more of this stuff – supplies of which are dwindling. She fears water wars. She wonders how unworkably inconvenient it is for people to refill a reusable bottle." –Marina Hyde, The Guardian (UK) (read the whole story here)
ABOUT Bottlemania
In the follow-up to Garbage Land, her influential investigation into our modern trash crisis, Elizabeth Royte ventures to Fryeburg, Maine, to look deep into the source—of Poland Spring water. In this tiny town, and in others like it across the country, she finds the people, machines, economies, and cultural trends that have made bottled water a $60-billion-a-year phenomenon even as it threatens local control of a natural resource and litters the landscape with plastic waste.
Moving beyond the environmental consequences of making, filling, transporting and landfilling those billions of bottles, Royte examines the state of tap water today (you may be surprised), and the social impact of water-hungry multinationals sinking ever more pumps into tiny rural towns. Ultimately, Bottlemania makes a case for protecting public water supplies, for improving our water infrastructure and—in a world of increasing drought and pollution—better allocating the precious drinkable water that remains.
Read Elizabeth's story "A Tall, Cool Drink of… Sewage," in the August 10 New York Times Magazine. Listen to Elizabeth speak about recycled water on WKCR's Good Food.
Read Salon's "conversation" with Elizabeth. Read Powell's"interview."
Listen to Elizabeth on NPR's Marketplace.
Read Elizabeth's NY Times Op Ed about public water fountains.
Listen to Elizabeth on Brian Lehrer's WNYC radio show. Read her responses to listener questions in this Bottled Water FAQ.
Elizabeth goes up against Joseph Doss, CEO of the International Bottled Water Association on BlogTalkRadio. (fast forward to minute 10 for their conversation)
Read a Bottlemania excerpt.
Read more reviews.
Explore Elizabeth's water links.
Read about Elizabeth Royte, and her books Garbage Land and The Tapir's Morning Bath, both New York Times Notable Books.